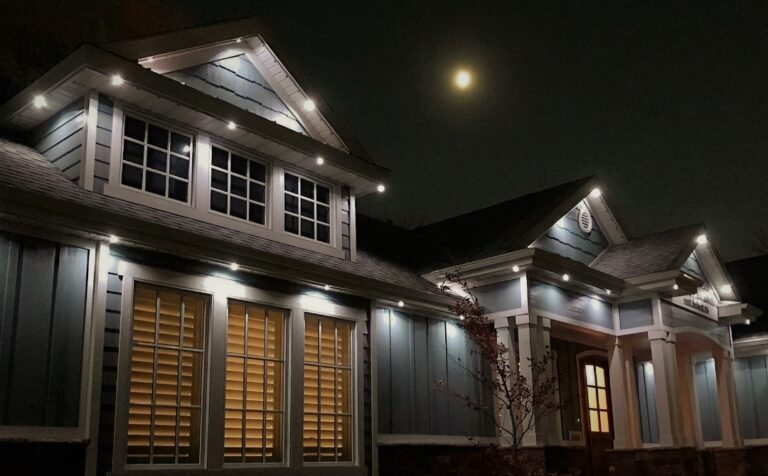 Lighting up your home is one of the easiest ways to immediately add curb appeal. Whether your home has certain features you'd like accented like peaks or columns or you just want to light up your home so it's not so dark at night, FireFly Lighting by Nola Lighting is the perfect solution.
Within the app, you're able to decide which lights you'd like on and what color they'll be. For example, turn on 2 lights at the top of each peak or choose a preset pattern. 
You can adjust the brightness, or shade, of white you'd like to match other exterior lighting or accent your home's color.
Accent Your Commercial Building
Draw more attention to your storefront with commercial lighting and attract new business!
You can keep things interesting by turning on different color decorations every day of the year. Plus, deter crime with nightly timers and light up the premises for your security cameras.
The track can be permanently installed face out for more direct lighting or face down to wash down the walls of the building.
You can create your own pattern or choose a preset pattern that accents all the right parts, save it to come on automatically nightly with sunset to sunrise or static times.We are linked with weather.com, so time changes are accounted for.
With the calendar feature, you can schedule months in advance, thus easily transitioning to your holiday lighting to accent lighting without having to change the setting in the timer. For example, you can set a Christmas lighting program for December 1st-25th, then an accent lighting program from December 26th until the next holiday.